| | |
| --- | --- |
| | Naccio Challenge Prizes |
Previous prizes:
March 1999: World's best General Gao's Chicken
Current prize: Celtic FC Replica Jersey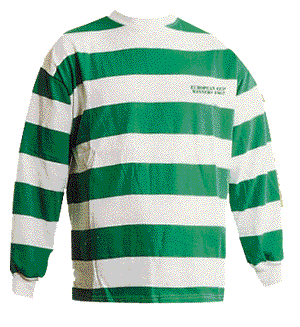 In addition to the untold fame and (no doubt) deep personal satisfaction you will receive for cracking Naccio, you will also receive a 1967 Celtic FC authentic replica jersey (provided by TOFFS).
Why Celtic?
Note: if you haven't yet read the explanation of the name Naccio, you should do so first.

An excerpt on the 1967 European Cup Final from: Andy Gray with Jim Drewett. Flat Back Four: The Tactical Game. Macmillan Publishers Ltd, London, 1998.
When Celtic went into all-out attack, it must have been a huge shock to Inter. Their gameplan was to defend in numbers, but also to try and get hold of the ball and pass it around to take the sting out of the game. But Celtic threw so many men forward, men playing with fantastic movement and flair, that Inter were pinned right back onto the edge of their area for virtually the entire game.

Celtic combated the Inter system by flying forward with the type of skillful, incisive attacks which you can only mount if you have players on board like Jimmy Johnstone. To break down a system like Inter's you either need players who can take the ball when tightly marked but still turn defenders or you need players with good movement who can take defenders into places they don't want to go. Celtic had both.

Defeat against Celtic was a crushing blow to Herrera's "invincible" Inter. It was followed by failure to retain the Italian title and defeat in the semi-final of the Coppa Italia against Second Division opposition. It was the beginning of the end for catenaccio. Celtic had proved that the Inter defence could be breached. But Herrera refused to accept that tactics were responsible, instead he blamed sweeped Picchi for Inter's crash. Picchi was soon sold to a lower league club Varese, where he claimed: "When things go right it is always Herrera's brilliant planning. When things go wring, it is always the players who are to blame."
Rangers and Hibs fans will be offered a substitue prize if they are unwilling to be spotted in a Celtic jersey.
Naccio Home Page
David Evans
University of Virginia, Computer Science