| | |
| --- | --- |
| | Naccio Challenge Prizes |
March 1999: World's best General Gao's Chicken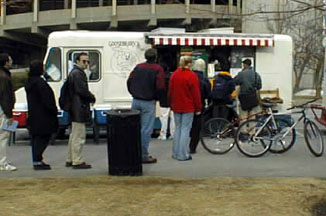 In addition to the untold fame and (no doubt) deep personal satisfaction you will receive for cracking Naccio, you will also receive a serving of Goosebeary's General Gao's Chicken (soda not included). While lesser food critics may be mislead by Goosebeary's modest exterior, or the (needless to say, baseless) rumors about food poisoning, true culinary experts recognize Goosebeary's General Gao's Chicken as the world's finest. One noted critic, Daniel C. Stevenson, Sports Editor for The Tech, writes that a "rash of intestinal disorders (was) likely not caused by Goosebeary's food". High praise indeed!
Not only will Goosebeary's food satisfy the most discriminating palate, it will also nourish your mind. Careful statistical studies conducted by The Royal Kyzyl Institute of Lies, Damned Lies and Statistics concluded that people who have eaten Goosebeary's General Gao's Chicken are 6837 times more likely than the general population to have won a Nobel Prize, and 25912 times more likely to have won a Turing Award. (Of course, your results may vary.)
Winners are responsible for their shipping costs and customs problems (we expect many), or their own transportation to the food trucks or the MIT Lab for Computer Science.
Naccio Home Page
David Evans
University of Virginia, Computer Science